To make sustainable rural areas, we need more resources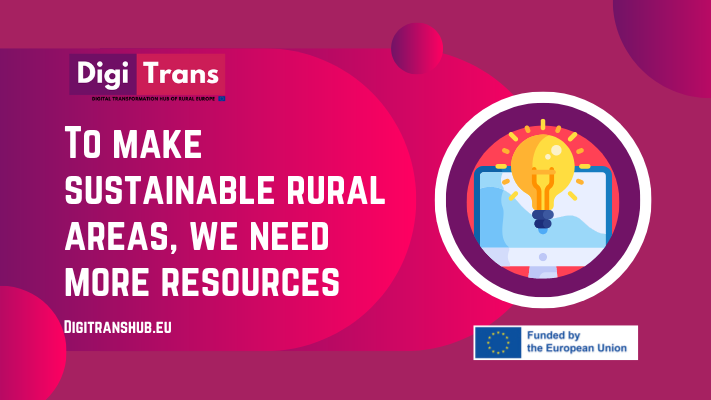 DIGITRANS connects rural stakeholders and freelancers from different European regions on a joint online platform. The program will focus on informal learning to provide digital pioneers with the skills and knowledge needed to address problems in their communities. 
The interviews for this study were designed to focus on three areas of interest: rural digitization, key competences and innovation networks. 17 case studies and interviews conducted in Austria, Belgium, Denmark, England, France, Germany, Italy, Spain and Greece have highlighted that respondents are looking for a wide range of skills important to digital development and innovation, including technical skills and social skills such as networking and collaboration. These competencies do not only focus on technical skills, but also on social and transformative processes that help us to meet our goals by engaging with complex problems. Though the interviewees were in different parts of the country, they tended to list similar needs. 
Our findings suggest that in order to successfully implement digitalization at a local level, it is not enough to simply have technical skills, social and transformational skills are also important. It is important for areas to transform themselves. It is essential to assess the context in which you work, anticipate future problems, and engage with your community while inspiring creativity. Another significant element, essential for business success, is an entrepreneur's ability to think strategically, and to allocate time, people, and money accordingly.  
Human resources are critical to the success of digitization
Digital skills are critical to the success of digital transformation, but digital transformation cannot succeed without human resources that support the policy goals of leaders. While it is certain that digitalization plays an important role in improving the quality of life, it should not lead to the dehumanization of services, especially in rural areas. Digitization will only succeed if it is supported by human resources and does not lead to dehumanizing services. An inclusive, bottom-up approach is another important aspect that emerged from the interviews. Moreover, it is necessary to involve all public and private stakeholders in the process of digital transformation. 
Understanding the environment and circumstances in which you work is a further crucial factor. Additionally, it's critical to comprehend the local circumstances in order to have a personal understanding of rural life, identify its challenges and opportunities, and inspire innovative local projects. Because of this, it's crucial to have technical capabilities as well as sociological and engagement traits like empathy and involvement.  
The realization that digital development in rural areas requires infrastructure and public investment is also important to consider. Besides, private initiatives in this area rely both on public support from an economic as well as bureaucratic point of view, which often discourages private investments. Finding resources to support the growth of initiatives is another issue. The means are frequently present, but there is a mismatch between those who are unaware of the opportunity or are unsure of how to apply and the public sector that is providing it. Therefore, forming cooperation groups in these situations becomes increasingly important for carrying out a project proposal. 
More financial resources and networking are all we need
To achieve digital transformation in rural areas, specific promotions (financial incentives, technology alliances, consulting services, etc.) by the state and other non-public entities are unquestionably required. There are frequently accessible funding programs, financial initiatives, and technology partnerships. Although sufficient resources are offered, concerns about continuity arise because each initiative is only supported for a brief period of time.  
As a result of our interviews, a few things have come to light that may prevent future efforts at digital innovation in rural areas from being sustained and put into action. Among the potential problems highlighted by the interviewees, the most repeated ones were 1) the lack of resources and capital, 2) the lack of networks and human resources 3) indifference of local authorities, and lastly 4) scarcity in public funding.  
DIGITRANS pioneers supplied us with valuable answers to continue working on the project. The responses we got made us aware that we should consider all potential risks for the future platform. It is necessary to ensure that it is truly co-developed, based on the territorial differences coordinated by a facilitator. During the project, we will be following up with these needs, so we can adjust the learning path and deliver impactful results. All partners are looking forward to continue this work.  
Digitrans Hub Blog
Do you want to share your story with us?
If you want to be part of our project, click the button and fill-in the contact form to share your story with us!
Join us